The ocean is one of the most undiscovered corners of planet Earth and is home to the most poisonous jellyfish and many other species of animals and plants.
Why Are Jellyfish Poisonous?
The primary function of jellyfish venom, at an evolutionary level, is related to its defensive role. Several studies have shown that the composition of the venom contains substances that are dangerous to the human body.
A little knowledge about them will help us identify them and put our feet on the ground when we see them. Let's get started!
1) The Chrysaora Fuscescens
Chrysaora fuscescens specimens are easily identified by their size. They can grow to up 30 centimeters and have 24 tentacles that are 2 meters long. These jellyfish are found on the east and west coasts of the United States, where they form large swarms in the summer. Such a swarm is quite a threat to the swimming public. A sting from this jellyfish is excruciating and leaves a rash on the skin for about an hour. However, it is rarely the case that you have to see a doctor after being bitten by the chrysaora.
Another striking features about this type of jellyfish is their ability to detect light. This ability allows them to spot prey or potential threats. In addition, they are capable of dispensing a reddish colored ink. Because of their powerful shadows and easy maintenance for humans, this species is also exhibited in public aquariums.
2) Irukandji Jellyfish
Its venom is said to be 100 times more potent than that of a cobra. Despite being one of the smallest jellyfish species, it has been observed that the smaller she is, the more powerful the venom.
One sting from this little creature can be deadly! However, if a victim is treated immediately, he can be saved. The effects of a sting only become noticeable after about 20 minutes. The sting leads to increased blood pressure, nausea, fluid accumulation in the lungs, and excruciating pain in all muscles.
3) Portuguese Warship
Although the Portuguese warship is not a jellyfish, it was still necessary to be on this list. Every year this invertebrate is in the news because of the numerous specimens that wash up on the beaches. Moreover, the jellyfish floats on the water, just like a ship. It floats around on all the oceans in the world. If the Portuguese warship stings you, it will leave a big mark on your skin. The jellyfish's venom can cause fever, shock, and difficulty breathing. Symptoms of paralysis also occur, which is not helpful if you swim in the sea. Drowning is, therefore, a danger.
4) The Australian Sea Wasp
This jellyfish is classified as the most poisonous venomous species on Earth.
It is about 6 millimeters in diameter, but its tentacles can grow up to 3 meters in length. The danger of this invertebrate lies in the size of its tentacles, as they can graze people and take a sting. However, this animal prefers the waters far from the coast of the Australian beaches. This jellyfish carries enough venom to kill as many as 60 adults. In Asia, it kills as many as 100 a year. Since 1954, 5,568 people have been killed by this jellyfish.
5) Hair Jellyfish
This is the largest jellyfish in the world. It can be 2.5 meters wide and tentacles as much as 30 meters long. Typical of cold waters, it occurs in the North Atlantic and Australian waters. Like other jellyfish, its nematocytes remain active even when they are dead. This means that they can still cause stings for some time after death.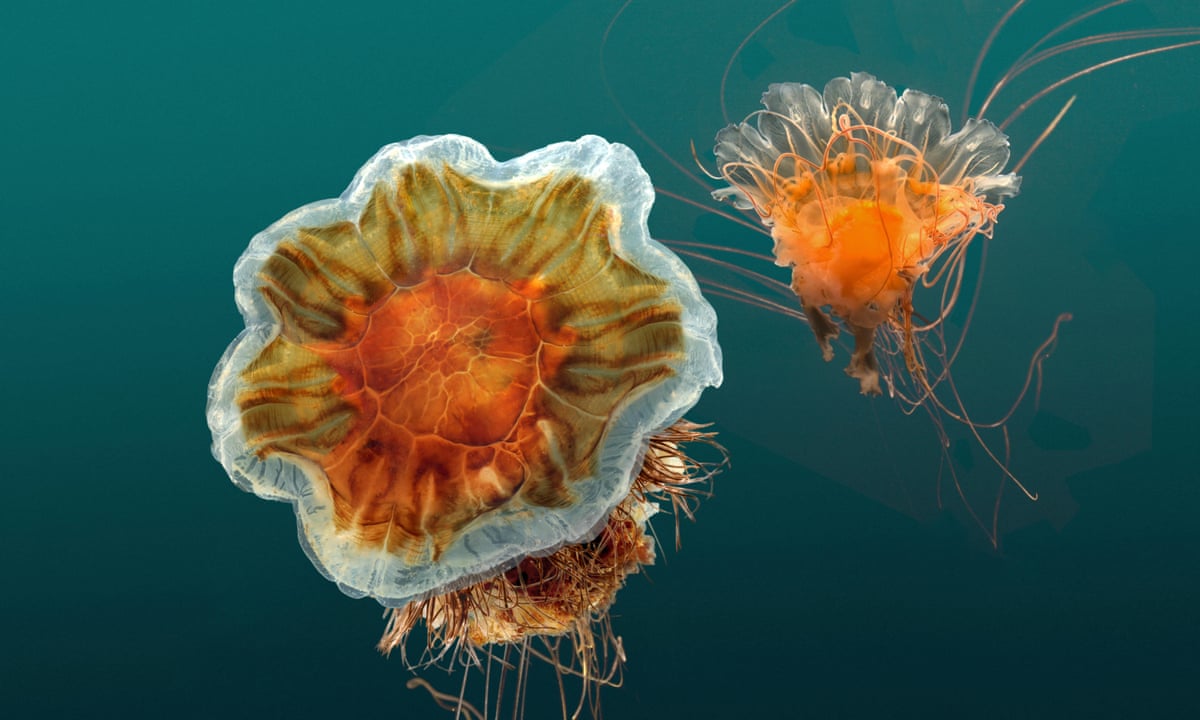 Have you ever encountered any of these jellyfish species? Share your experience with us in the comments below!