The amazing thing about trees is that they are all unique; no two are the same and they grow in strange and wonderful ways. Trees are aesthetically pleasing and add value to the city. The downside is that some trees can form weak unions/attachments or overextend limbs because they are reaching for the light. This can be of concern in an urban environment as they pose a potential threat to people and property. Therefore, preservation is an essential part of tree care.
Type of Tree Structural Damage
Before we tackle cabling and bracing, let's first look at some of the problems trees can face. Some trees grow with structural defects that, if left untreated, can cause splitting or trunk breakage. In other words, these compromised trees and limbs can fall onto your or a neighbor's property without much warning. So, here are two of the most common types of structural damage to watch out for:
Codominant (V-Crotch) Stems
Have you ever seen a tree with two or more massive trunks coming out of the same place, many of which are in the shape of a V? It's a visible red flag to warn you of potential structural failure. Codominant trunks, where there is no bark compression between the connective tissue and the trunk, which is not as strong as a single trunk, are the most common risk of tree breakage. In addition, the risk of structural failure is higher the more prominent the "v-shaped" angle. Therefore, it is imperative to buy and plant trees with a single trunk, also known as a "leader". In the case of a young tree, you have the opportunity to suppress this problem at an early stage by removing one codominant trunk, which immediately encourages the development of a strong leader tree. If it is an older tree, you may need to have recourse to cabling and bracing.
Overextended Limbs
Some trees may have unusually long limbs, usually growing horizontally or downwards, with most of the leaves concentrated at the end of the branch. Such heavy, over-inflated limbs can cause structural problems, often breaking where the branch and steam meet. With a higher risk of breaking or falling, these limbs are more vulnerable to stress. For instance, heavy snow, ice, and strong winds can quickly bring these weakened limbs to failure with this extra tension and compression.
Cabling and Bracing Basics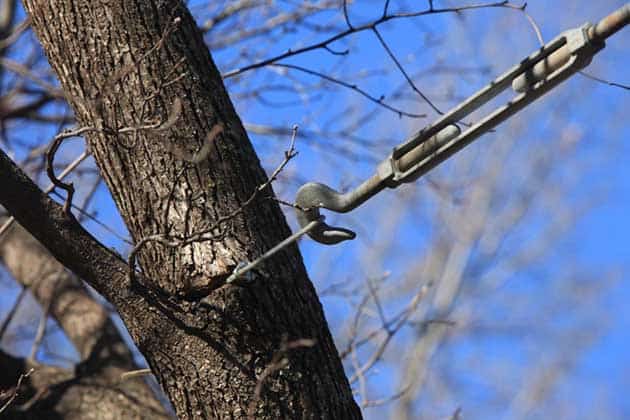 Poorly anchored trees that are the result of transplanting can also cause structural problems. After an on-site consultation, experts such as K-W Tree Expert Co. can best determine the necessary measures (pruning, removal, cabling or pruning).
For structurally weak trees, tree support systems are essential and can help limit the movement of branches, limbs or the entire tree – helping to reduce the risk to you and your property. Tree bracing and cabling can help strengthen trees.
Bracing
Bracing are intended to support codominant stems (also called multiple arms). Brace rods help to reduce the risk of the leaders moving side to side or spreading out. They are usually installed in one of two ways: as a through rod (the rod is attached to the other side of a tree or branch with a nut) or as a dead-end rod (the rod is threaded into the tree). Brace rods can also help repair split branches. They are usually equipped with cables to provide extra support.
Cabling
Cabling is an essential anchor for overinflated branches. When installed over the weakest part of the tree, cabling limits the range of movement of the branch relative to the rest of the tree – this is to reduce the risk of breakage. Tree care professionals will determine if more than one cable is needed for the installation or if it should be used in conjunction with brace rods.
Weakened and damaged trees can be dangerous, especially in extreme weather conditions. As such, it is better to rely on tree service professionals like K-W Tree Expert Co. They have been in business for over 30 years and their highly experienced and qualified arborists will be able to answer any of your questions. Give them a call for the perfect tree treatment.